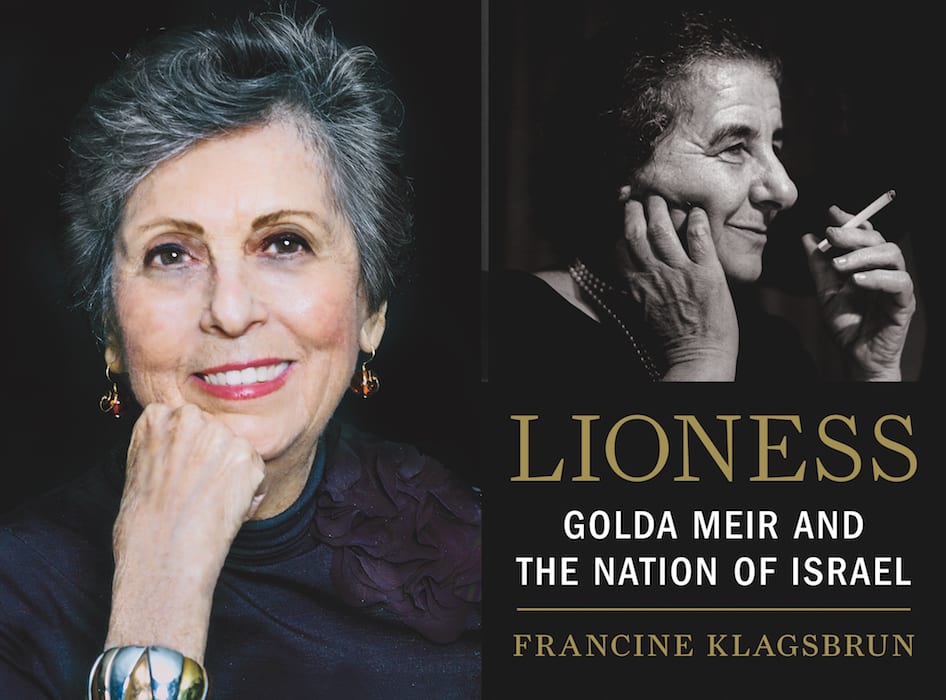 Credit: Photo of Francine Klagsbrun by Joan Roth
Release Date: September 6, 2017
Author Francine Klagsbrun Speaks about Golda Meir October 19 at the Jewish Museum
Press Release PDF Request Press Images
New York, NY, September 7, 2017 - Author Francine Klagsbrun will speak about her new book, Lioness: Golda Meir and the Nation of Israel (Schocken Books, 2017), at the Jewish Museum on October 19 at 6:30 pm in a program co-presented with The Jewish Week. Klagsbrun's superbly researched and masterly recounted story of Israel's founding mother is the definitive biography of Golda Meir, the iron-willed leader and political operative who became the fourth prime minister of Israel and one of the most notable women of the 20th century. Copies of Lioness will be available for purchase and signing after the event. The program will be introduced by Gary Rosenblatt, Editor and Publisher of The Jewish Week.

This program is Free with Pay-What-You-Wish Admission and RSVP. Further information is available by calling 212.423.3337 or online at TheJewishMuseum.org/calendar.

Francine Klagsbrun is the author of more than a dozen books, including The Fourth Commandment: Remember the Sabbath Day and Married People: Staying Together in the Age of Divorce. She was the editor of the best-selling Free to Be . . . You and Me. She is a regular columnist for The Jewish Week, a contributing editor to Lilith, and on the editorial board of Hadassah magazine. Her writing has also appeared in The New York Times, The Boston Globe, Newsweek, and Ms. Magazine. She is a trustee of the Jewish Museum, and lives in New York City.

Golda Meir was born in Czarist Russia in 1898. She immigrated to the United States in 1906 and grew up in Milwaukee, where she displayed the political consciousness and organizational skills that would eventually bring her into the inner circles of Israel's founding generation of leaders.

Support
Public programs are made possible, in part, through public funds from the New York City Department of Cultural Affairs in partnership with City Council and the New York State Council on the Arts with the support of Governor Andrew M. Cuomo and the New York State Legislature.
About the Jewish Museum
Located on the famed Museum Mile, the Jewish Museum is one of the world's preeminent institutions devoted to exploring art and Jewish culture from ancient to contemporary, and offers intellectually engaging, educational, and provocative exhibitions and programs for people of all ages and backgrounds.

Location: 1109 Fifth Avenue at 92nd Street, New York City|

Hours: Saturday, Sunday, Monday, and Tuesday, 11am to 5:45pm; Thursday, 11am to 8pm; and Friday, 11am to 4pm.

Admission: $15.00 for adults, $12.00 for senior citizens, $7.50 for students, free for visitors 18 and under and Jewish Museum members. Pay What You Wish on Thursdays from 5pm to 8pm. Free on Saturdays.

Information: The public may call 212.423.3200 or visit TheJewishMuseum.org